Into the Limelight 'El primero'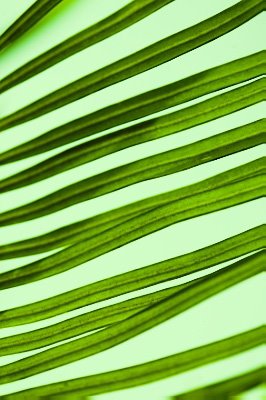 Here is one of the first pictures taken with my new
Canon Ef 100mm f2.8 macro
(
an In Focus feature will be come when I've had more time to evaluate this lens
)
I bought this macro as a complement to my excellent, yet very special and hard to master
MP-E 65mm
1-5x macro. With the new macro a can now cover the range from 1x macro and up.
The picture was taken from beneath the plant (a dracaena of some sort) up against the blue sky using natural lighting. In the RAW converter I then tweaked the picture so that it would only consist of these specific shades of green, removing the blue sky and bringing out the details in the center of the leaves.
The balance between the light green and the shadow parts, both in respect to each other and how their contrast work together, was important, I did not want the image to become heavy. It should have a clean sense of movement and at the same time being static and the beautiful patterns of it's whole as well as in the tiny details.
Changing the blue sky into green would have been easily accomplished in Photoshop, but it was an interesting exercise in using color temperature, ting, saturation, hue and some color balance to get the results I sought without the need to exit RawShooter premium.
Picture data: f2.8, 1/2000 sec, ISO 100