Into the Limelight 'Another macro shot'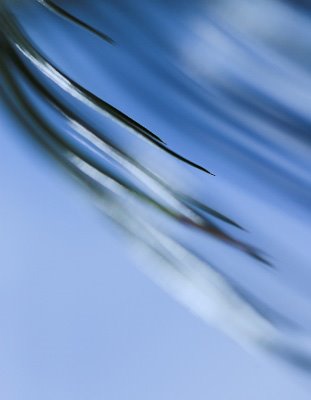 Picture data: f3.2, 1/2700 sec, ISO 100
Still trying to figure out where the picture data should be placed. I want it easily found, without intruding too much for those readers who really don't care and to follow a consistent design, so that those who care can easily find it. Maybe I should just place it at the bottom of the picture?
I was thinking of adding a poll feature, didn't really know what I would use it for, but now it might come handy, so that you, the bellowed reader, can vote on where you would the picture data to be.
This macro photograph is another one from the same series while testing my new Canon 100 mm f2.8 macro lens.
What I like about this picture is that it gives a very strong sense of movement, yet the leaves of the dracaena are completely still and it has been photographer at 1/2700 sec!
All the feeling of movement is created by the short depth of field with focus set very near, the nicely rendered bokeh of this lens, and the composition. Something else that made this picture a keeper for me, is how the dark pointy greens give a calm and sad feeling and at the same time the light blue colors and light tell of a nice sunny summer day.