In Focus 'Sony VAIO TX2 ultraportable laptop'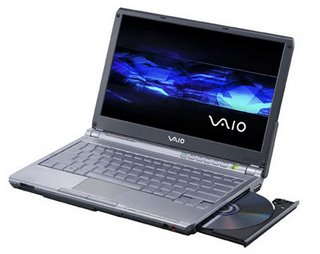 In march I traveled to Shenzen and Hong Kong to teach photography and set up a simple studio for taking product shoots. During this trip I bought a new laptop, the Sony VAIO TX2 (the name might vary depending on which country it is sold in).
I had previously been using a Flashtrax, which for those who don't know, is handheld portable multimedia device for offloading and storing digital images and music. It has a 3.5" LCD display, a 40GB hard disk drive and can directly , press a button, copy your compact flash memory cards to it's internal hard disk. It's small, about the size of a thick pocketbook, and works pretty well as a portable backup solution for digital photographers.
The Sony VAIO TX2 is a ultraportable computer, compared to a traditional laptop it's small, really small, measuring only 19.5 x 27,2 cm with a height varying from 2,1 to 2,8 cm, this is the same size as if you would stack four issues of Professional Photographer magazine and yet you would need to cut away 2 cm on the width and height!
Compared to the Flashtrax, it is certainly bigger, on the other hand it is also a lot more capable. Not only can you backup your pictures, the screen is good enough so that you can sort and do rough corrections/editing of your RAW images on.
Battery life looks very promising when reading the specs and actually delivers on this promise in practice. In fact battery time is better than the flashtrax! While working on it and simultaneously listening to music (playing mp3's from the hard disk, not using the optical drive) I get about 6 hours battery life. This is with the standard battery!
When shooting on location it's very easy to bring along the TX2 and use it for tethered shooting. The 11.1" widescreen LCD display is much better for viewing pictures than using the tiny display on your camera, plus you can look at the RAW files at 1:1 pixel size instead of judging DOF or sharpness through the small embedded JPG's in the cameras display.
For those who fly a lot there is a nice feature, you can boot up the computer into a special Audio/Video mode (without starting Windows). Here you can listen to music, watch pictures and watch DVD movies. The playback quality of DVD movies is great, bring along some headphones and you will be enjoying the best video and audio quality onboard that flight!
With the computer I got two bags, sort of like a bubushka nesting bag set. The innermost is very small and just fits like a slightly padded protection cover around the VAIO TX2. The other one is larger and fits the first bag, with the TX2 inside, plus the transformer and a few more things such as a mouse, some pens and a paper block. There is also a front pocket should wish to put in a few more things.
The design is beautiful, one of those products that earns the epithet sexy, it will proudly fight any of the MacBooks in aesthetics and good looks. Sony's designers have done a wonderful job which clearly shows in it's good looks and also feels in the materials chosen.
Specs as reviewed

1.2 GHz Pentium M processor with Centrino technology
1.5 GB memory (default may vary from 512Mb to 1024Mb in different countries)
1.24kg

11.1-inch Widescreen display with white LED backlight (
4.5mm thin!)

Sony's latest generation X-black LCD™ technology,
1366 x 768 resolution
6 hours battery life with standard battery (in practice!)

Carbon fiber

Intel Graphics Media Accelerator 950 with maximum 128MB Dynamic Video Memory shared with main memory

Integrated DVD dual layer +-RW burner
60Gb Hard disk drive

IntelPro/Wireless 802.11b/g
Bluetooth 2.0 + EDR
2 x USB 2.0 ports, 1 x firewire, 1 x Memory Stick Pro / SD card slot, RJ-11 (modem), RJ-45 (network)
, mic, headset.

The screen is bright and has very good contrast and colors. My main concern with the screen was the glossy finish which I had expected to reflect more of the environment and be a bit annoying in some circumstances. It turns out that I can't really remember of being really disturbed by it, probably it sometimes reflects things that disturb the viewing on the screen, but by just slightly adjusting the angle of the computer this is quickly avoided and I probably do it without thinking about it.
I tried working on the computer outdoors during bright sunlight and under these conditions I had to increase the lightness of the screen to it's maximum. In these conditions I would not work with images, but you can easily write emails, surf the web etc. Comparing it with a DELL Inspireon laptop it was a night and day difference in contrast and readability, the VAIO was superior without any doubt. Having both side by side indoors would not lead you to believe that the difference would be big at all. I will build a hood for the screen and I believe this will make it possible to use the VAIO Tx2 for tethered shooting outdoors. When this has been tested you will be informed about the results here.
As mentioned in the beginning the VAIO TX2 is a tiny computer, yet the keyboard feels very easy to write on. I usually need a little bit of time to get accustomed to writing on a laptop as the keyboard layout and the feedback of pressing the keys normally differs quite much from a standard keyboards. But with this keyboard I was surprised of how quickly I adjusted to it.
The touchpad also feels very good and is the first one I believe is done right. The surface material gives just the right amount of friction to work great in combination with it's sensitivity. My only complain is that I wish the software control panel for it had one more option and this is to disable the touchpad automatically if I connect a mouse to the computer.
Pros:
It's tiny, lightweight and very portable
Very nice screen, high resolution, good colors and contrast
Good performance and battery life
Integrated CD/DVD dual layer burner
Great connectivity
Cons:
Price
The glossy finish on the LCD screen
3D acceleration should be considered as non existent
Conclusion:
If you think it is expensive, don't have a look at it because you
will
want one!

Note: Sony recently announced the TX3 version. It has been upgraded with the new Intel Core Solo CPU (even better power efficiency), a fingerprint reader, built in tv digital tuner and a
G-Sensor Shock Protection to protect the hard disk should you drop the computer.